This week in the Cryptoverse, we saw that the Ethereum address activity approached Bitcoin's level in June, and BNB kept climbing despite the warnings issued to Binance in two countries and it closing shop in a third, but a day later, UK-based customers claimed they had been frozen out of GBP withdrawals, with some also having issues with bank card-linked transactions. Then Arca went on and debunked 10 most popular crypto market bear theses. A new fee structure proposal for Dogecoin was released, which Elon Musk described as 'important,' and most of the surveyed investors didn't find Musk's tweets on crypto helpful. As this was happening, Craig Wright won a legal battle against the Bitcoin.org operator on a technicality.
El Salvador officials said that the BTC they'll give away in airdrops is for spending, not for converting into USD, while the US seems to have increased the political pressure on this BTC-supporting country. South Korean crypto exchanges were readying a lawsuit against the government if need be, leaders in France and the US urged for crypto regulation 'before it's too late', and a former Japanese regulatory chief said that the digital yuan will be hard to ignore for other nations. Meanwhile, NCR and NYDIG teamed up to enable 24m customers of 650 US banks to buy and sell BTC, TP ICAP and Deutsche Börse Group announced their new crypto moves, and Crypto.com became the inaugural, global, and NFT partner of the Formula 1 'Sprint' series.
As George Soros and Steve Cohen are both reportedly going crypto, if Mexican billionaire Ricardo Salinas Pliego gets his way, his bank will become the first in the nation to accept BTC. Also, Gisele Bündchen and Tom Brady have taken an equity stake in FTX.
With this week, June ended, and with it the second quarter and the first half of 2021, leaving numerous winners and losers for us to write about.
Now, a very special weekly section prepared just for your eyes (but feel free to show it to others): crypto jokes! Enjoy.
__________
Heey, CT! You good?
__
Let's check what's up with the crypto market?
__
How about CYT?
__
Per the definition:
__
'Mamammm…'
__
Very true.
__
🤯
__
And the guy was bored.
__
Musk musking away.
__
'Why won't it hit 100??! Waaiiiii!'
__
And now the question is stuck in my mind…
__
But here are some related suggestions:
__
Why would you baffle Satoshi?
__
To quote a great man from the meme above: "What the hell is this?"
__
Fixed! …?
__
Lot's of stuff can happen in 20 crypto-seconds.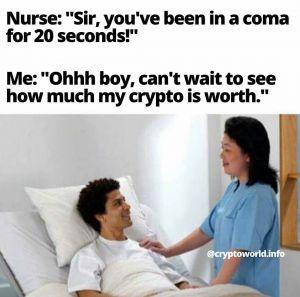 __
Oh, there may be a twist to this one, with quite a lot at stake!
__
Meanwhile, in China, things are going– well, they're going.
__
Very helpful of them.
__
And here's an interview with an expert from a documentary on Bitcoin weather and atmosphere.

Credit: Source link